May 2021 Top HVAC Stories
Every month, Web HVAC brings you interesting news stories related to HVAC equipment, new technology, weather, saving money on your energy bills and other topics related to heating, air conditioning and creating a comfortable indoor climate.
Top HVAC Stories May 2021
Here's what our researchers found this month that we hope you'll enjoy delving into with us.
Carrier is Back On Top in Efficiency
For 5-7 years in the 2000s, Carrier made the most efficient central air conditioner, the Infinity with Greenspeed.
Then came along the Lennox XC25 that smashed Carrier's SEER level with a rating of 25 SEER. The XC25 was the most efficient central air conditioner for quite a few years.
Carrier has pulled ahead again with the Carrier Infinity 26 model 24VNA6, also with Greenspeed Intelligence, has a 26 SEER rating, the current best among split system central ACs. Do you need an AC that efficient? Most of us don't. But if you live in a very hot and humid climate, you might consider it.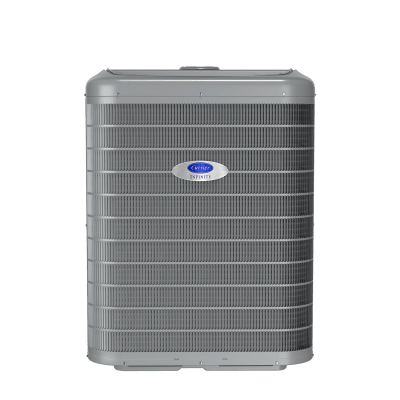 What is Greenspeed? It is Carrier's word for variable-speed technology. Instead of operating at one or two stages, this unit's compressor runs like cruise control, slowing down or speeding up in tiny increments from about 30% to 100% capacity to work only as hard as needed to keep your home's temperature exactly where you want it.
Did you know? Carrier and Bryant make identical equipment except for the jacket on the unit and the name plate. The Bryant 186CNV Extreme 26 air conditioner is the same as the Carrier Infinity 26.
2021 Hurricane Forecast – Above Average Activity
It's going to be a triple-A season according to the National Oceanic and Atmospheric Administration – Above Average Activity.
Even if you don't live in a hurricane zone – millions of us do – there's still an interest in hurricanes. Here are a few stories about the 2021 hurricane predictions made by the weather pros.
First, Wikipedia reminds us that the annual Hurricane Season is June 1 to November 30. Most hurricanes wreak their havoc during this 6-month period.
OK, the big news is that, "The U.S. could be in for another active hurricane season in the months ahead. The National Oceanic and Atmospheric Administration released its 2021 Atlantic hurricane season outlook on Thursday, predicting a 60% chance of an above-normal number of named storms," according to the NOAA outlook. Sure, that's barely more than saying there is a 50-50 chance the season will be worse than usual. Nothing is brewing as we write this near the end of May 2021, but stay tuned.
What's "above average"? The prediction is for 13-20 named storms with 6-10 become hurricanes. If you're really into hurricanes, here's a 55-minute video from NOAA discussing all the details of the upcoming 2021 season.
Your Energy Company Will Pay You to Install Energy Star Equipment
Yep. The rebates aren't huge – they range from $200 to $500 across the country – but most energy providers have rebate programs for the installation of energy-efficient heating and air conditioning equipment, smart thermostats and more. Go to your energy provider's website for details and search "rebates," or poke around, and you'll likely come across it. Here is an example from Consumers Energy – a $400 rebate on a very efficient AC.
| | | | |
| --- | --- | --- | --- |
| Split System Central AC | 17.0 – 18.99 SEER | Electric Customers | $400 |
Pro Search Tip: Sometimes Google or Duck Duck Go – whatever search engine you like – will find the rebates faster.
Want to find rebates from your energy company? Another option is to get free estimates from local contractors on the HVAC equipment you want to add or replace. Use the option on this page to learn more.
Window AC vs Central AC?
If you live in a hot climate or even one that is warm and muggy, you'll want central air.
But if you live in a moderate or cool climate, then you've got options to consider.
Can you save money with a window air conditioner? Yes, possibly. After all, the US DOE predicts Americans spend $22 billion a year on electricity for air conditioning! That seems crazy high, but it's probably accurate.
First, window air conditioners are becoming more efficient. And a lot of them have WiFi connectivity, which allows you to control the unit from anywhere. This can save money by turning off the AC while you're gone – and using the app to turn it on 30-60 minutes before you get home. Yes, you can do that with a smart thermostat running your central AC. But you've got options – that's our point.
Secondly, you can save money with a window air conditioner if you only need part-time AC. Cool the room you're in during the warm afternoon/evening hours, and don't waste energy running central air conditioning, cooling rooms that are unoccupied.
So, consider your circumstances. Here's a useful article on Central AC vs Window AC.
AC Troubleshooting – The AC is Running but Not Cooling the House
We occasionally bring our readers FAQ/troubleshooting posts. Here's a good one for the 2021 cooling season.
Is your outside unit and indoor air handler running, but the system isn't removing heat from your living space?
This New York HVAC supply wholesaler/retailer offers excellent AC troubleshoot tips.
See You In June
We'll be back in June 2021 with more top HVAC stories, tips and ways to save money on your air conditioning bills.
Need System Advice or a Free Quote?
We've Got HVAC Pros Ready to Help!