Gas Pack Buyers Guide 2020
This 2020 gas pack Buying Guide includes information you can use to determine if a gas-electric package unit is the best choice for your installation and which options you should consider.
We've completed our 2020 Top Rated Gas Packs guide too where the best gas packs for this year are listed and reviewed.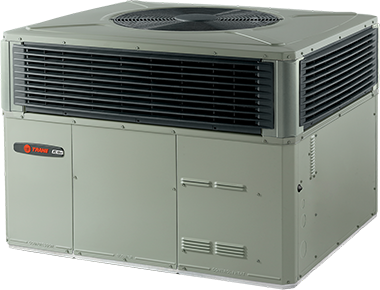 What is a Gas Pack?
Feel free to skip this section if it's not what you're here for.
These units are called gas packs because the single large cabinet contains:
A gas furnace with a blower.
Packaged with an electric air conditioner.
They're more technically called a gas-electric package unit.
You might also want to consider a heat pump package unit with a heat pump for heating and cooling and an air handler to circulate air. They cost a little more, but are more efficient, especially in moderate and warm climates.
In fact, in very warm climates, a heat pump package unit has a clear advantage. You'll pay $hundreds less per year in energy costs, so the slightly higher equipment/upfront cost will be repaid in a few years.
Ask an HVAC pro about it if you doubt that. Or even if you don't, these local heating and air conditioning contractors offer free advice and free estimates. There is no obligation to you.
Where are Gas Packs Used?
They are mostly installed in southern states where basements are less common. But also:
Anywhere bedrock or a high water table precludes a basement.
Commercial buildings without basements.
Mobile homes anywhere.
Gas packs are not the best choice for cold climates. Most are outfitted with 80% AFUE furnaces, and that's not high efficiency.
A split system with a 90+ gas furnace and an AC, if you need one, is a better bet in northern states. Here are 2020 Top Rated Furnace models and reviews.
Gas Electric Package Unit Options
You don't have nearly as many options with gas packs as with split systems.
Gas Pack Efficiency Options
Heating efficiency is almost always right around 80%. Nordyne/Nortek Global brands introduced gas packs with a 95% furnace in 2014. The Frigidaire R8HE gas pack is an example. The Maytag PPG3HE is another Nordyne unit. That's a lot more efficient, but we're concerned about the reliability of Nortek brands.
Air conditioning efficiency ranges from 13 SEER to 16 SEER, so there's a small range there. The hotter your climate, the more it makes sense to choose the most efficient model you can afford. Your cooling costs will be about 25% lower with a 16 SEER vs a 13 SEER model. Even 16 SEER vs 14 SEER will save you about 15% on energy costs.
Another option for lowering energy use is to choose a gas pack with an ECM blower motor vs a PSC motor. An electronically  commutated motor (ECM, aka EC) is 20-30% more efficient. They are also quieter and more reliable. Here are 7 reasons to consider an ECM vs PSC motor.
Gas packs with an ECM motor like the Heil PGR5 cost a little more, but the expense is generally recouped in a few years through lower energy costs.
Gas Pack Climate Control
Your options are single-stage a two-stage furnaces and air conditioners. Most are either single-stage heating and cooling are two-stage both.
What is the advantage of two-stage vs single-stage? Indoor comfort. A single-stage unit, often called a 1-stage model, runs at full capacity all the time. Most single-stage units have PSC motors.
When running at 100%, they are 100% noisy. And they aren't as efficient. The upside is that they cost less. If you live in a moderate climate and aren't a stickler for indoor climate control, a single-stage unit is a fine choice. The Goodman GPG14 is affordable, pretty reliable and has a good warranty.
In a warm climate or when you want better temperature balance, then consider a two-stage gas pack like the Heil mentioned above or the Lennox LRP16GE with a 2-stage AC compressor and a variable-speed blower. It offers good efficiency and comfort. What gives us pause is the 5-year parts warranty on parts other than the heat exchanger (20 years) and compressor (10 years). Most gas packs have a 10-year warranty.
Dual Fuel Gas Packs
These are units that have a furnace and a heat pump instead of an air conditioner. A heat pump provides air conditioning in warm months and heat in cold months.
What's the advantage of a duel fuel gas pack? It is that heat pump heating is more efficient, so a heat pump costs less to operate than a furnace.
The reason to have a gas furnace too, rather than a heat pump package unit with a heat pump and air handler but no furnace, is freezing weather.
Most heat pumps lose efficiency and effectiveness in very cold weather. That's when the furnace takes over the heating process until temperatures rise. The switch point can be adjusted/programmed. Most HVAC techs recommending setting it in the mid-30s Fahrenheit.
In our Top Rated Gas Packs guide, we recommend the Trane Earthwise packaged gas electric systems. There are two models, a 16 SEER and 14 SEER. Both have 81% furnaces.
Gas Pack Capacity – Sizing your Gas Electric Package Unit
Gas pack air conditioning units come in BTU capacities of 18K, 24K, 30K, 36K, 42K, 48K and 60K (aka 1.5, 2.0, 2.5, 3.0, 3.5, 4.0 and 5.0 tons). Furnaces come in corresponding capacities from about 40,000 to 140,000 BTUs of heating.
Some technicians guestimate the size you need, usually based on house size and climate.
A more accurate approach is to have a load calculation performed to determine how much heating and air conditioning your home needs. Multiple factors are accounted for including you home's size, but also its layout, insulation levels, window type and number, the landscape, roofing material, etc.
There are problems with both too large and too small units. Neither will be as efficient as it could be if properly sized, and indoor comfort will suffer too. Worst-case scenario is the unit works too hard because it is too small or short cycles because it is too large. Mechanical issues result in both situations.
Hire a Gas Pack Installer You Can Trust
Sizing the gas pack is just one reason for finding the right installer.
We recommend getting quotes from at least 3 proven pros in your area. Call around, get recommendations from friends and/or use our Free HVAC Quotes service at no cost and no obligation.
The pros in the service are prescreened to be experienced, licensed and insured. They'll answer any questions you have and give their insight into the right unit for your home.
Check out customer reviews before hiring any contractor. The best reviews are found on Google, Angie's List and the Better Business Bureau. Yelp can be useful too, but there aren't as many contractor reviews there.
Choose a gas package installer with a good track record of doing the job right the first time and caring about customer concerns.
Need System Advice or a Free Quote?
We've Got HVAC Pros Ready to Help!