December 2019 Top HVAC Stories
Here are this month's leading HVAC news and stories you can use.
Top 5 HVAC News Stories for 2019 December
Weather, equipment, ratings and more…
What's Up with Portable AC Ratings?
A portable air conditioner rated at 12,000 BTUs a few years ago is not rated at just 6,500 BTUs. What's up with that?
The US Department of Energy got wise to the built-in inefficiency of portable air conditioners. When they exhaust hot, muggy air, it creates negative pressure in the house. When that happens, warm and humid air is sucked in through cracks in the home's envelope – a drafty window or gap around a door frame, for examples.
That exchange lowers the net efficiency of the portable air conditioner. The new rating is SACC or Seasonally Adjusted Cooling Capacity that factors the air pulled back into the house.
Here's more on the SACC rating.
When you shop for portable air conditioners, you might see both ratings given. Very few manufacturers show just the new rating, since it makes its units look less efficient when consumers compare them to other brands.
If you want an efficient room air conditioner, a window air conditioner is a better choice than a portable air conditioner.
A Look Back at Top 2019 Innovation in HVAC
LG shares its perspective on the most important changes in the HVAC from 2019 in this interesting post.
Temperatures for January through March 2020
Here is NOAA's temperature forecast map for the next three months. It looks like a golf vacation in Florida or Arizona might be a great way to beat the cold weather in the Plains and Midwest!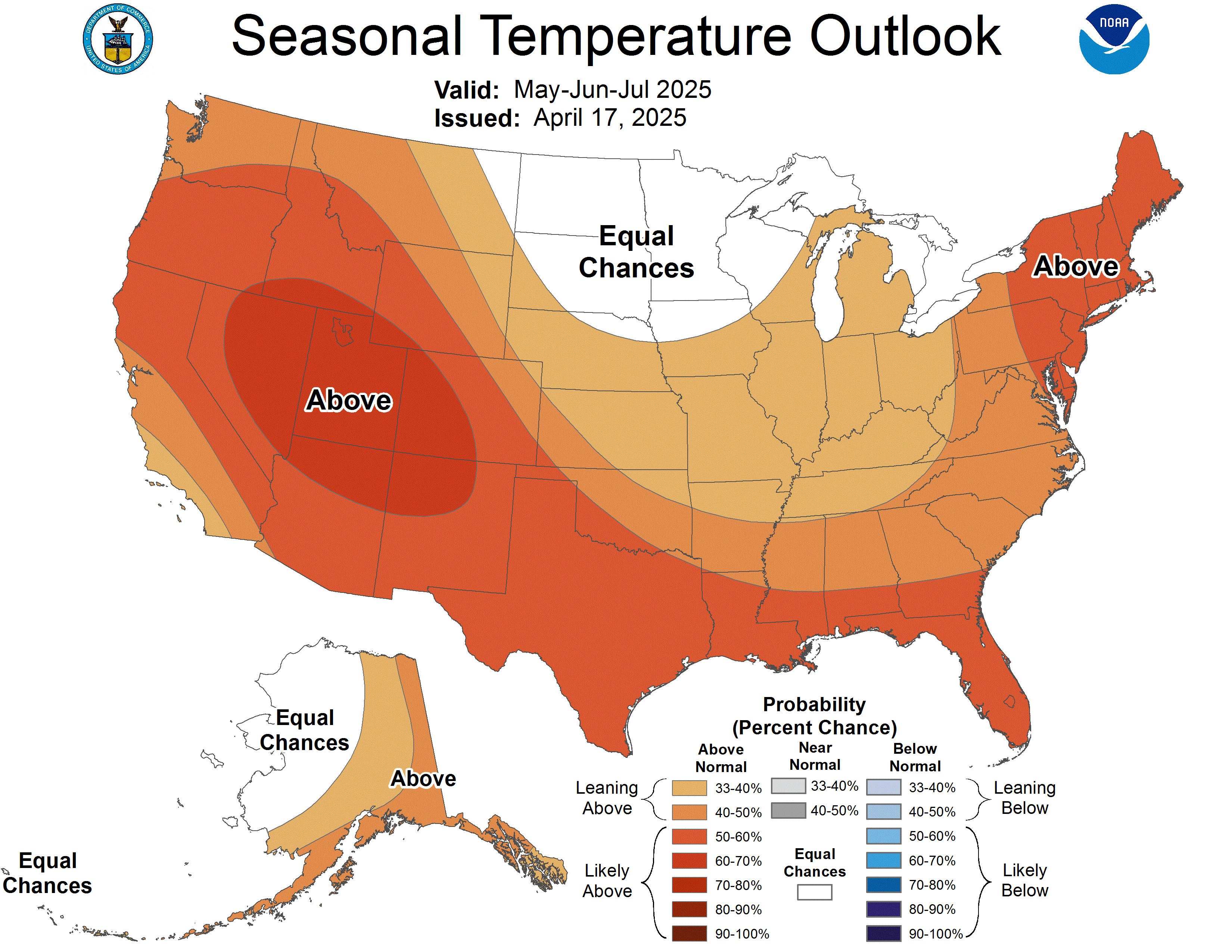 Cannabis – A New Service Market for the HVAC Industry
For better and worse uses, cannabis is here to stay in many states. Growing facilities of all sizes need carefully controlled environments. Here's a look at this burgeoning industry.
The HVAC Industry Offers Solid Careers
American teenagers and 20-somethings are realizing that a college degree might not be the golden ticket of old.
Instead, there's a smart move to in-demand, good-paying technical fields like the HVAC industry. This post discusses a report showing global and domestic growth.
Need a New HVAC System, Furnace or Heat pump?
Use our free Estimating Service to get competitive estimates quickly and easily with no obligation to take any of them.
Most of those that get the estimates find a price they like from a pre-screened, licensed and insured HVAC contractor with a proven track record of quality installation.
Need System Advice or a Free Quote?
We've Got HVAC Pros Ready to Help!