Top Rated Oil Furnaces 2019
The 2019 best oil furnaces are discussed in this review and buying guide.
It probably goes without saying that if you currently have a gas furnace – natural gas or propane – sticking with a gas furnace is a better option than oil. You already have the infrastructure and gas line, and gas furnaces can offer better energy efficiency and indoor comfort.
With that aside, lets explore the five best oil furnace reviews.
2019 Best Oil Furnaces
Adams AHEO Highboy Condensing Oil Furnace
Thermo Pride OH6FX Series – Low-Profile Highboy Oil Furnace
Day & Night Constant Comfort OLV 87 Low Boy Oil Furnace
Lennox Elite Series ELO183 Oil Furnace
Trane XV80 Oil Furnace
Top Rated Oil Furnace Reviews
Now let's take a closer look at these models.
Adams AHEO Highboy Condensing Oil Furnace
Adams isn't well-known like Trane, Lennox and Carrier, but they make the best oil furnace available in the United States.
The Adams AHEO Highboy is a condensing oil fired furnace. It is the most efficient oil furnace available. Condensing technology requires a second heat exchanger to transfer as much heat as possible from combustion gases before they're vented.
Adams makes similar oil furnaces in low-boy, horizontal and counterflow models, so there's one for your installation requirements. See the guide below for the differences in oil furnace profiles.
Efficiency: 95%, Energy Star
Features: Single-stage burner, stainless steel heat exchanger resists corrosion, PSC standard blower or optional ECM variable-speed blower that reduces energy use.
Burner: The INTERburner oil burner is standard. It features patented "turbo reversed air" for more dependable combustion. The Beckett NX burner is available as an option.
Pros: High efficiency lowers energy costs. Quiet, comfortable performance, especially if you choose the ECM motor.
Cons: Because of the secondary heat exchanger and advanced burner that comes standard, this top rated oil furnace costs 20% to 30% more than others. In a cold climate, the higher cost is usually paid back in 4-7 years through lower oil costs. The warranty isn't as good as other brands offer.
Sizes: 58,000 to 115,000 BTUs on the Highboy. If you need a larger model,
Warranty: 20-year, pro-rated warranty.
Cost level: $$$$
Best suited to: Very cold climates and a good fit for any homeowner committed to reducing energy use.
Thermo Pride OH6FX Series – Low-Profile Highboy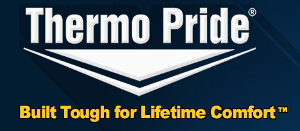 This is a two-stage oil furnace, one of the few on the market. The furnace runs at lower capacity, which is 70% capacity, most of the time. This is quieter and produces temperatures that are more balanced than a single-stage furnace can produce.
Thermo Pride isn't a household name either, but HVAC professionals that install oil furnaces know it.
The brand is known for quality components and materials. The low-profile highboy design on the Thermo Pride OH6FX means that larger AC coils fit it very easily.
Efficiency: 87%, Energy Star
Features: 2-stage oil valve and burner can be adjusted to vary firing rates. This gives the contractor the opportunity to custom the furnace's performance for your precise heating requirements. It is 11" shorter than most highboy oil furnaces, ECM blower reduces electricity use. Copper-coated heat exchanger eis corrosion-resistant.
Burner: 2-stage Riello burner.
Pros: Good performance, efficiency and durability. One of the best oil furnace warranties.
Cons: Slightly higher cost than average. Not available everywhere, and parts might sometimes be hard to get.
Sizes: Just 89,000 BTU, but as noted, the burner capacity can be adjusted to be adequately sized for most homes.
Warranty: Lifetime heat exchanger and 10-year parts warranty. The warranties are not prorated.
Cost level: $$$$
Best suited to: Homeowners that prefer premium quality and are willing to pay a bit more for it.
Day & Night Constant Comfort OLV 87 Low Boy Oil Furnace
This low-boy design is ideal for crawlspaces and other limited-height installations.
Day & Night is a brand owned by International Comfort Products, which is owned by UTC, which also makes Carrier and Bryant. As a result, this top oil furnace is available in other ICP brands like Heil, Tempstar and Keeprite. It is also nearly identical to Carrier and Bryant oil furnaces.
The advantage of the Day & Night oil furnace over Carrier is cost. This brand is marketed at a lower price than Carrier.
Efficiency: Up to 86.6%, some sizes are Energy Star certified.
Features: Single-stage burner, variable-speed blower, dual fuel capable which means it can be installed in a system with a heat pump. In dual fuel systems, the oil furnace would only be used in freezing temperatures.
Burner: Accepts either Beckett or Riello burners.
Pros: Excellent value – good quality at a more affordable cost. Energy Star models reduce energy costs. Excellent warranty.
Cons: Nothing notable.
Warranty: Lifetime heat exchanger warranty and 10 years on parts. If the heat exchanger fails in the first decade, Day & Night will replace the entire furnace.
Cost level: $$$
Best suited to: Value hunters that want quality and reliability for their investment.
Lennox Elite Series ELO183 Oil Furnace
Lennox is a leader in HVAC efficiency, but this unit isn't the brand's most efficient model. It is the best Lennox oil furnace, however, a blend of good quality and durability in a basic-performance oil furnace.
This furnace is available in upflow, downflow and horizontal-flow models.
Efficiency: Up to 83%
Features: Single-stage, PSC fixed speed blower.
Burner: Beckett
Pros: Good quality and cost. Decent warranty.
Cons: Not as energy efficient as many oil furnaces. Lennox parts are sometimes hard to get and costly.
Sizes: 68,000 to 150,000 BTUs
Warranty: Lifetime heat exchanger, 5 years on parts. Not among the top warranties.
Cost level: $$$
Best suited to: Homeowners that want a Lennox and would rather spend less on the furnace than for a more efficient model.
Trane XV80 Oil Furnace
This top Trane oil furnace is also available in various profiles including a lowboy, highboy and downflow/horizontal models.
Efficiency: Up to 85%
Features: Single-stage heating with a variable-speed blower that prevents cool blasts of unheated air at beginning and end of cycle. Comfort-R fan mode works with a central air conditioner to remove more humidity during cooling cycles. It is dual fuel compatible.
Burner:
Pros: Excellent quality and dependability. That's why it is on our best oil furnaces list.
Cons: Costs more than comparable oil furnaces.
Warranty: Lifetime heat exchanger and 10-year parts warranties.
Cost level: $$$$
Best suited to: Moderate and cool climates, though not ideal for the coldest regions.
Choose Your Oil Furnace Installer Just as Carefully
An oil furnace properly installed and adjusted for your heating needs will deliver a couple decades of efficient, comfortable heating.
One improperly installed might break down, run inefficiently and/or not provide good indoor comfort.
To find a top-rated installer, we recommend these proven steps.
Request estimates from 3+ HVAC companies in your area with a good reputation.
Avoid newer companies with little experience.
Ask about the experience of the crew that will install your HVAC system.
Check online reviews at Google, Yelp and the BBB.
Select an installer you believe will do the best job installing your oil furnace according to manufacturer guidelines.
If you'd like to expedite the process, consider using our Free Estimates tab. It is the quickest way to get estimates from prescreened, licensed and experienced oil furnace installers in your area.
Need System Advice or a Free Quote?
We've Got HVAC Pros Ready to Help!