We've reviewed the five best gas packaged units for 2019 and tell you why they made the list. The reviews include features, pros and cons and information about the best fit for each, so you can evaluate and compare models head to head.
2019 Best Gas Packs
Maytag M1200 PPG2GI iQ Drive Gas Pack – Highest AC efficiency
Maytag M1200 PPG3HE Gas Pack – Highest heating efficiency
Ruud Ultra Series Gas Pack – Best features
Carrier Performance 15 Gas Pack – Best dual fuel gas pack
Goodman GPG16M Gas Pack – Best Value
Just so we're on the same page, this post is about packaged units with a gas furnace and an air conditioner (technically called a condensing unit).
They're called gas/electric packaged units or just gas packs. The Carrier gas pack on the list includes a heat pump to go with the furnace. Learn why that makes sense below.
Best Gas Electric Packaged Units 2019
Here are our 2019 gas pack reviews.
Maytag M1200 PPG2GI iQ Drive Gas Pack
We picked the Maytag version of this gas pack because it is the most widely available, but it is also available as the Frigidaire R6GI, NuTone R6GI and Broan R6GI. They are all Nortek Global brands. Not all might be sold in your area.
Why it is on the List
The 20 SEER rating is 4 points higher than the 16 SEER models that are the most efficient for all other brands. Even Lennox, the industry leader for energy efficiency in furnaces, ACs and heat pumps, doesn't make a unit with a SEER rating above 16.
Efficiency: 20 SEER – Energy Star, 81% AFUE
Features: The key to 20 SEER efficiency is an inverter-driven compressor. Rather than having on/off or low/high operation, the compressor varies speed through five stages from about 40% to 100% capacity. Like cruise control, it adjusts to keep your home's temperature precisely balanced during air conditioning cycles.
Pros: AC efficiency plus the inverter-style compressor runs more quietly and removes more humidity during cooling cycles than other compressors. Variable-speed blower fan for heating and air conditioning.
Cons: More expensive than most, as you'd expect with its premium efficiency and features.
Warranty: Lifetime heat exchanger warranty, 12 years on all parts. Called the Dependability Promise, Maytag will replace the entire gas pack, not just the part, if the heat exchanger or compressor fail during that time. Best warranty on this list.
Price range: $$$$ – $$$$$
Best choice for: Very warm climates. It is 20% to 30% more efficient than 16 SEER and 14 SEER models, so energy costs are that much lower.
Maytag M1200 PPG3HE Gas Pack
Maytag takes the second spot too for its commitment to efficiency. It's the total package too with good features and more.
Why it is on the List
This Maytag gas/electric package unit is built with a 95% AFUE furnace, the most efficiency in the industry, while almost all other packaged units from major brands have 80/81% furnaces.
It's a two-stage furnace too, so heats on low capacity most of the time, which is quieter and more comfortable.
Efficiency: 14 SEER, 95% AFUE – Energy Star
Features: Two-stage, very efficient furnace. Well-protected cooling coil. Cooling is single-stage.
Pros: Industry-best heating efficiency and comfort. Solid build. Best warranty available.
Cons: Costs more because of the efficient, two-stage furnace.
Warranty: 12 years on all parts plus the Maytag Dependability Promise. If the heat exchanger or compressor fail while under warranty, Maytag will replace the entire gas pack, not just the failed part.
Price range: $$$$-$$$$$
Best choice for: Cold climates where a 95% furnace uses about 15% less fuel than 81% furnaces.
Ruud Ultra Series Gas Pack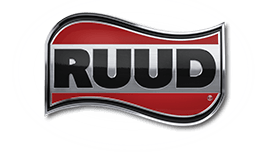 Ruud is known for dependability and good quality. Its units are priced in the middle to slightly above average. This gas pack is also called the Ruud RGEA16.
Rheem makes the same gas packaged unit, known as the Rheem RGEA16.
Why it is on the List
Features. It has the most complete list of quality features among the best gas packaged units. These include a two-stage burner and variable-speed blower that combine to give you better climate control and temperature balance.
Ruud/Rheem paid attention to all the details in this unit, so it should run durably and comfortably for 15-20 years with general maintenance.
Efficiency: 16 SEER, 81% AFUE.
Features: UltraTech Scroll compressor, the top-rated available, variable-speed ECM fan for improved indoor comfort and lower electricity use, stainless steel heat exchanger ideal for outdoor installation, louvered cabinet to protect the coil. The one-piece top keeps moisture out of the unit.
Pros: Good quality, excellent features and a very good warranty.
Cons: No major flaws. Efficiency is just average to slightly above average.
Price range: $$$$
Best choice for: Any homeowner that wants comfortable, reliable heating and air conditioning from a brand with very good ratings.
Carrier Performance 15 Gas Pack
This Carrier gas/electric package unit is also called the Carrier 48VR. Carrier annually ranks among the most dependable HVAC units of all brands.
Carrier's twin brand, Bryant, makes this unit as the Bryant Preferred Series 677E-B gas pack. Both brands call dual fuel heating Hybrid Heat ™. You might save a few bucks on a Bryant version, since its products are often priced slightly lower for customers looking for affordable HVAC.
Why it is on the List
It is the best dual fuel gas/electric package unit available. Here's how it works. The heat pump provides heat whenever temperatures are above the mid-30s F. This is because heat pumps are more energy efficient than furnaces.
However, as temperatures drop to near and below freezing, a heat pump can't pull sufficient heat from the outside air. That's when the furnace takes over the heating until outdoor temperatures rise. The system will switch automatically between heat pump and furnace heat, so you don't have to do it manually.
Efficiency: 15 SEER, 8.5 HSPF – Energy Star, 81% AFUE
Features: Two-stage heat pump, two-stage furnace, multispeed blower for good but not great climate control, efficient tubular heat exchanger made from corrosion-resistance stainless steel.
Pros: The dual fuel heating is the top reason to consider this Carrier or Bryant gas pack. It produces the most economical heating in cold climates. Without a furnace, just a heat pump, the backup 20 kW strip heater would run much of the winter, and that type of heat is very expensive.
Cons: Efficiency is so-so. It seems the top name in residential heating and air conditioning should have a higher commitment to efficiency. Both brands make a 16 SEER gas pack, but that's the most efficient. Warranty is so-so too, while the price for the Carrier version is above average.
Warranty: 20-year heat exchanger and 10-year parts warranty.
Price range: $$$$$
Best choice for: Homes in cold climates that require a package unit rather than a split system.
Goodman GPG16M Gas Pack

Goodman gained a reputation for being cheap, and the reputation was fitting for many years.
However, when global HVAC leader Daikin bought Goodman and Amana in 2012, the quality began to improve. It's no longer justified to say Goodman is cheap junk. Quality is at least average among all major HVAC brands including Trane, American Standard, Lennox, Carrier, etc.
Why it is on the List
Even with improved quality, Daikin/Goodman has kept pricing on Goodman models very competitive. Goodman remains the best value in HVAC.
This unit is available as the Amana APGM16 and the Daikin DP16GM. Just start with the first letter of the brand and move the others around a bit.
Efficiency: 16 SEER – Energy Star, 81% AFUE
Features: Two-stage heating and air conditioning. Multispeed blower offers decent indoor comfort and balanced temperatures. It's an ECM motor, so uses less electricity than a PSC motor. Meets low-NOx standards.
Pros: Good quality at a lower cost, a great definition of value. Also, this is one of the few gas package units on this list that you can buy retail in case you want to install it yourself. Just know that DIY installation if you're not an HVAC tech will void the warranty coverage – true for all HVAC brands.
Cons: To keep long-term cost and risk down, Goodman has reduced its warranties, which were once the best in the industry.
Warranty: 20 years on the heat exchanger and 10 on other parts. The Amana version has a lifetime heat exchanger warranty and 10-year parts warranty. The Daikin version is lifetime and 12 years. Both the Amana and Daikin prices are higher as a result.
Price range: $$$$
Best choice for: Value shoppers that want a good-quality gas pack.
Installation Tips
There's a saying in the HVAC industry that the most important day in a gas pack's life is the day it is installed.
The adage means that proper installation will mean good durability and running at the efficiency level it is designed for.
Poor installation will lead to early mechanical issues and sub-par efficiency.
We recommend getting estimates from several quality installers in your area. Make sure they:
Are experienced, certified installers
Are Licensed and insured
Have a track record of good customer service
Once you've narrowed your list, check their reviews on Google, Yelp or the BBB site.
If you'd like to quickly get quotes from installers screened for all the right attributes, feel free to use our Free Estimates service. There is no cost or obligation.
Need System Advice or a Free Quote?
We've Got HVAC Pros Ready to Help!