Gas Furnace Buyers Guide 2019
A 2019 gas furnace buying guide includes basic information for the first-time furnace buyer.
For both the first-time buyer and the homeowner that has replaced a mechanical system or two, a gas furnace buying guide should explain your options.
Gas furnace options include efficiency from 80% to more than 98%, three levels of heating performance, smart home features including wi-fi capabilities and other options to customize the way you heat your home.
In short, you have enough options to find a furnace that fits your circumstances really well.
Gas Furnace Buying Guide Overview
Here's where we are going – An Outline
Gas Furnace vs. Heat Pump
Gas Furnace Efficiency Options
Choosing a Gas Furnace for Your Climate
Gas Furnace Climate Control Options
Gas Furnace Cost
How Big Gas Furnace Do I Need? Gas Furnace Sizing
Sorting Out Gas Furnace Brands
Gas Furnace Buying Tips
Why Gas Furnace Installation Matters
Gas Furnace vs. Heat Pump
Have you decided that a gas furnace is a better fit for your heating needs than a heat pump?
If not, consider your options. Climate definitely plays a part, but there are other factors too.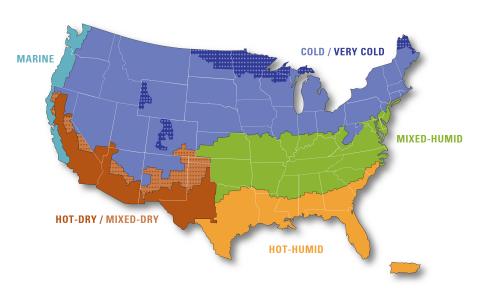 When a furnace is better than a heat pump:
You live in the Cold or Very Cold region. This is a problem for most heat pumps, because they must gather heat from outdoors to bring inside to heat your home. It is difficult to do when temperatures are below freezing.
You don't need air conditioning. That also means you're probably in a Cold/Very Cold climate. If you don't use AC, then a gas furnace is much more affordable than a heat pump and air handler system.
Your air conditioner doesn't need replacing. Again, the more affordable option is to just replace a furnace.
When a heat pump is better than a furnace:
You live in any of the other climates. They're not too cold for a heat pump, and you'll want AC too. A heat pump uses a small amount of electricity to circulate refrigerant that captures heat in one place and dumps it in another.
You are replacing the entire system (and live in a suitable climate).
A heat pump and air handler costs about the same as an air conditioner and furnace. Heating costs are lower with a heat pump.
See our Heat Pump Buyers Guide for complete information.
Gas Furnace Efficiency Options
Furnaces are available at efficiency levels of 80% and 90% to almost 99%. The efficiency rating is called AFUE – annualized fuel utilization efficiency.
80% furnaces: Furnaces with a single heat exchanger can only transfer about 80% of the heat produced. The other 80% is lost out the flue.
90% and higher furnaces: When a second heat exchanger is added, more heat is transferred out of the exhaust gases, and efficiency goes up significantly. Lennox and Carrier make furnaces more than 98% efficient. Most other brands' top furnace is 96% to 97.5% efficient.
Choosing a Gas Furnace for Your Climate
As the map shows, you might not have the option of installing an 80% furnace. Since 2013, this zone map has dictated minimum efficiencies for each region.
In terms of operating costs, the colder your winters are, the more efficient your furnace should be.
Cost Comparison: Let's use Goodman furnaces for our example. We use Goodman because they are sold online, unlike most other brands, so pricing them is easy.
Goodman is a low-cost brand, so expect to pay 10% to more than 50% higher prices for comparable furnaces from other brands.
All are 80,000 BTU, single-stage furnaces. Prices are averages.
80% AFUE Goodman GMH80: $700
92% AFUE Goodman GMSS92: $950
96% AFUE Goodman GMSS96: $1,100
Now, using a cost calculator from Efficiency Maine where winters are very cold, here are calculated heating costs for these three natural gas furnaces.
80% AFUE Goodman GMH80: $2,434
92% AFUE Goodman GMSS92: $2,117
96% AFUE Goodman GMSS96: $2,029
While 80% furnaces aren't sold in Maine, the example demonstrates cost savings as efficiency increases.
Payback Period: In Maine, you would have the choice of the 92% or 96% furnaces.
The more efficient furnace costs $150 more and uses $88 less fuel per year. That means you would recover the cost of buying the more efficient furnace in less than 2 years.
How to Determine Payback Period in Your Climate: You have to know a couple factors and do the math.
The cost of fuel per thousand cubic feet (CCF): This should be available on your energy bill of from your gas supplier.
How much fuel you use per year: Amount used is also shown on your bills. If you have an online account, you should be able to go into it, check all your statements and add up the total amount. Some utility companies aggregate it for you.
The math: Determine how much less fuel is used by more-efficient furnaces. In our example, we compared 92% and 96% furnaces. The equation is 92 ÷ 96 × the gas cost of the 92% furnace. So, 92 ÷ 96 = .95833 x 2,117 = $2,029. That's the $88 per year figure we determined.
Warm Climate – Longer Payback Period: Some homeowners in warm climate choose a highly efficient furnace for environmental reasons. Just keep in mind that the payback period can easily stretch to 5 or 10 years, perhaps longer.
A $2,434 heating bill in Maine might be half that in Tennessee and a tenth of that in Florida.
Cold climate – Short Payback Period / Warm Climate – Long Payback Period
Gas Furnace Climate Control Options
Climate control is about how the furnace delivers the heat it makes to your living space plus how it supports a central AC if you have one.
Heat Stages: You have three options.
Single-stage furnaces run at 100% whenever they fire up. This makes them louder. Many have fixed-speed fans that blow full force all the time. The air coming out of the grate at the beginning and end of the cycle is usually only partly heated, and you might feel a draft. Some single-stage furnaces have multispeed fans which help eliminate this issue.
Two-stage furnaces run at 70% and 100%. The lower setting is quieter. The fan in two-stage furnaces is usually variable speed. The fan starts on a lower speed that eliminates cool air blasts at the start and end of the cycle.
Variable-capacity furnaces are also called modulating furnaces. They run at a capacity at the low end starting anywhere from 25% to 40% depending on the model. From there, they can run at any capacity including 100%. The gas valve/burner combination only makes enough heat to keep temperatures precisely balanced. All variable-capacity furnaces have variable-speed blowers. You won't feel any temperature fluctuation or drafty, cool air.
Fan Speeds: As noted, blower fans range from fixed to variable speed.
Comfort: As stages and fan speeds increase, indoor comfort improves.
Single-stage, single-speed fan: Loud, drafty air at the start and end, temperature swings of 2-4 degrees.
Single-stage, multispeed fan: Loud, less drafty air, swings of 1-3 degrees.
Two-stage, variable-speed fan: 30% quieter, very little draft, swings of 1 or 2 degrees.
Variable-capacity, variable-speed fan: Up to 70% quieter than single-stage, no air drafts, swings of less than one degree.
Air Quality Add-ons: All the major brands have accessories to improve the indoor air quality in your home. These range from extra-thick media filters to electronic air cleaners to UV lights.
Gas Furnace Cost
In our HVAC Installation Cost Estimate Guide, it is stated that a gas furnace costs $800 on the low end for a DIY install (not recommended) to about $5,500 for a high-end furnace with pro installation.
Furnace Costs: For the furnace alone, here are price ranges. Factors include furnace size, efficiency, performance features and brand.
Single-stage models: $600 – $1,900
Two-stage models: $725 – $2,900
Variable-capacity models: $1,800 – $3,400
Installation Cost: These costs vary based on the accessories needed such as a new sheet metal plenum or wiring, furnace location and many other factors discussed in our Installation Guide.
Easy installation: $800 – $1,350
Average installation: $1,400 – $1,750
Difficult installation: $1,800 – $2,200
How Big Gas Furnace Do I Need? Gas Furnace Sizing
There are two steps to determining the right size furnace for your home.
Determining How Much Heat You Need: This is referred to as the load. You can find charts online like the one on this page that show BTUs per square foot for each Climate Zone. Those charts are handy but not always accurate. The right way to determine the amount of heat your home needs is to have a pro do a Manual J or similar load test. It accounts for far more than climate – Your home's layout, number of levels, number and type of windows and doors, insulation values and more. It is much more accurate. You do not want a furnace that is either too large or too small.
Your furnace is too small: It won't heat sufficiently, especially on the coldest days. Heat won't get evenly to all parts of the house, especially those furthest from the furnace. The furnace will run more than it should, and might break down more quickly as a result.
Your furnace is too large: The furnace will run in short, hot cycles that might push indoor temperatures past the thermostat set point. This can also create mechanical issues.
Your furnace is just the right size: It will run in quite a bit on the coldest days, but your home will be evenly heated.
Determining What Size Furnace You Need: OK, let's say you have a professional load test done and it is determined that you need a furnace that can deliver 90,000 BTUs of heat. What size furnace do you need? Not a 90,000 BTU furnace. What?
More math: You have to multiply the BTUs created by the efficiency of the furnace. Take three 100,000 BTU furnaces as an example.
80% x 100,000 = 80,000 BTUs. This furnace isn't large enough.
90% x 100,000 = 90,000 BTUs. This furnace is just right.
98% x 100,000 = 98,000 BTUs. This furnace is too large.
Now, if you want an 80% furnace, it will have to produce about 110,000 BTUs = 88,000 BTUs of heat in your home. This furnace would be OK.
If you want a 98% furnace, it would only have to be a 90,000 BTU model = 88,200 BTUs.
Furnace models are typically made in increments of 10K or 20K BTUs, so you and your furnace contractor might have to decide if a furnace that is just a little bigger or smaller than your ideal number will be a better choice.
Sorting Out Gas Furnace Brands
While there are a lot of furnace brands, many of them offer identical furnaces. Here's an overview of the furnace manufacturers and their brands:
United Technologies Corporation: UTC makes Carrier and Bryant. Most models are identical.
International Comfort Products. ICP is owned by UTC. It makes Day & Night, Heil, Arcoaire, AirQest,Tempstar, KeepRite and Comfortmaker. These brands are identical, though some have a more limited product lineup. They are also very similar to Carrier/Bryant. Payne is a low-cost UTC brand.
Ingersoll Rand: IR owns Trane and American Standard, and the equipment is identical.
Lennox Corporation: Brands are Lennox, Ducane, Armstrong, Concord, Allied and AirEase. All but Lennox are identical or nearly so.
Johnson Controls: Brands are York, Coleman, Luxaire and Champion.
Daikin Global: Brands are Goodman, Amana and Daikin. Brands are nearly identical.
Paloma Industries: Brands are Rheem and Ruud, and they are identical.
Nortek Global: This company makes identical lineups under Maytag, Broan and NuTone. It used to make Frigidaire, Tappan and Westinghouse, but those brands have been retired.
But what about furnace cost? Is there a difference? It varies. Trane and American Standard are priced about the same, as are Rheem and Ruud Daikin and Amana cost more than Goodman. Day & Night and other ICP brands cost less than Carrier. Bryant costs about the same.
These companies offer the same equipment at different prices for sales purposes. If a sales person can't sell you a $3,000 Carrier Infinity furnace, he or she might be able to sell you on a Day & Night furnace for $2,500 and still make a profit, though a smaller one.
This is why it makes sense to get estimates from several sellers and on several different furnaces.
Gas Furnace Buying Tips
These tips summarize some of what we've said and add a few more things to consider.
Buy for climate: The colder your winters are, the more a 95% furnace or higher makes sense.
Buy for the environment: If this is a top priority, then buying the most efficient furnace you can afford is the right choice.
Buy for value: If you live in a warm climate and the furnace runs infrequently, then an 80% furnace is cost effective. This is also true if the furnace is in a part-time location like a vacation home, cabin, guest house or apartment, etc.
Buy for indoor comfort – or not: If you want superior comfort – quiet operation, balanced temperatures and better humidity control in all seasons, then you'll want a 2-stage or variable-capacity furnace. If you'd rather save money and don't need optimal indoor climate control, then a single-stage model is perfect and costs less.
Why Gas Furnace Installation Matters
The day your furnace is installed is the most important day in its life.
That's because a furnace must be correctly installed, tuned and tested to make sure it runs as durably, efficiently and quietly as it should.
Is DIY installation possible? If you're handy and know how to safely work with electricity and gas lines, then yes, you might successfully install the furnace.
You'll void the warranty. No manufacturer will honor a warranty claim in a furnace that was DIY installed – unless the DIYer is a certified pro.
Carrier's warranty says, "Product must be installed properly and by a licensed HVAC technician."
Ruud's warranty says it does not apply to "equipment which is not installed by a qualified, trained HVAC professional."
Those are representative of all furnace warranties.
We recommend pro installation so you can keep warranty coverage and be assured that the unit is installed to run as it should. And if it doesn't, the installer will be responsible to make it right.
Need System Advice or a Free Quote?
We've Got HVAC Pros Ready to Help!